Been going out here and there over the last couple of weeks and it took a while to find some better loads. The trigger is giving me fits and my targets suck. I should also clean the barrel once. I pulled about half the targets I shot and have been bouncing between an accurate Varget load and XBR with SS109 rounds to get a nice plinker. I also messed with some Trophy bonded bear claws and mostly 69 and 77 Custom comps. I messed with a little RL15, but wanted to try these powders. I was really sucky for a while and went to Varget as it's forgiving and assured me I could find something.
The one whole 3 came from 23.5 varget with 69gr CC. I had quite a few 2in1's with a single flyer, so this was either a perfect shot, or luck. The 22.5 of XBR worked great with the 69's and 77's. I need to play with the SS109 as they could be a little tighter. The trigger creep is gritty, but I'm getting better at when it breaks. I wouldn't draw too many conclusions from these targets out side of the 22.5 of XBR and 23.5 of Varget are good safe starting points and may be the best combo with 69gr custom comps. The red 4 shot target with 22.5 xbr and 77gr CComps looks like an area I could explore.
One thing is all the best targets of those shown, have the closest bullets just below or at the target line. I'm thinking, perhaps incorrectly, that I've found a velocity node as all those quicker ones spread out over the horizontal aimpoint. My powder guesses have been at about that velocity, and if I try and go higher, the group spreads. The SOST rounds on the black target and other real Nato shots have been at the Nato standard, but not stellar. I just hate when two touch, as they might have all touched if you didn't suck or you got lucky on two and it really sucks.
So I need a tight five to prove the one ragged hole, find a SS109 load (might be with Tac) and work on that 77--and hope the backordered triggers at Shooting Sight come in. I need to mention the red targets are from today. It was butt cold.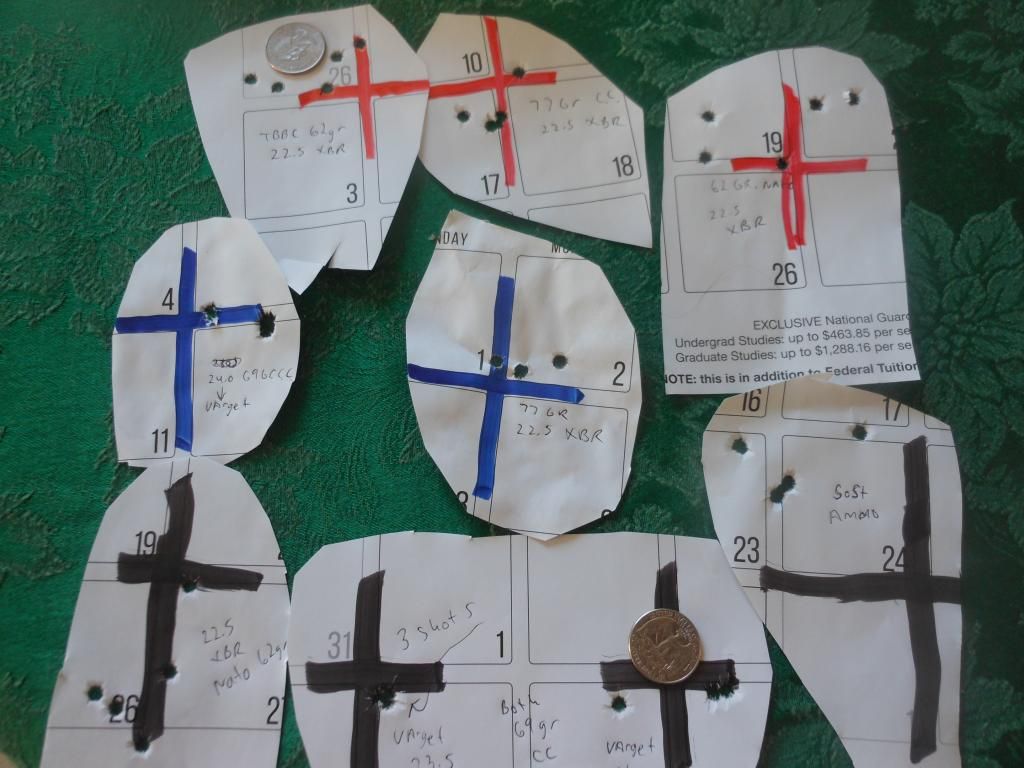 Don't hate me for my targets.