Discussion Starter
·
#1
·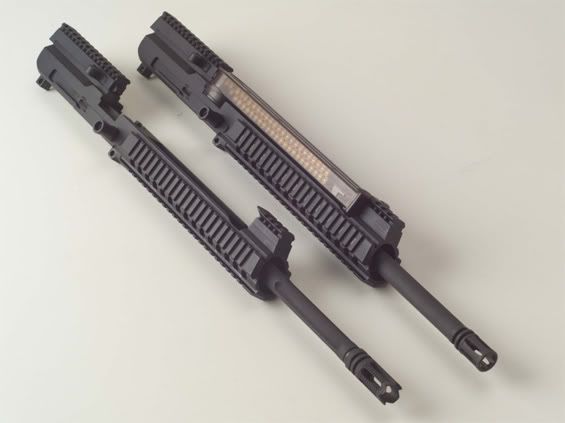 Available soon, the new AR-57 Upper Receiver. This highly anticipated upper is a direct replacement for your standard AR upper that will allow you to shoot the FNH 5.7 round. This upper requires no FFL to purchase or receive, and we can ship directly to your home!

The AR-57 platform empowers the operator with 50 rounds of firepower while keeping the magazine out of the way, increasing maneuverability and speed in close quarters conflicts. In addition to it's compact, snag-free design, the spent shells are directed straight towards the floor by exiting the standard AR magwell.

This new offering defines "High speed, low drag".
I originally posted this on Glock Talk and was asked by ShipWreck to post the picture and description I had for it. Anyway, this is all I have on it. I don't know much about the 5.7 round except it's a superior armor penetrator and it's expensive. And that this upper would be a pretty bitchin alternative to a P90 for an AR owner.
I didn't peruse this forum at all prior to posting this, so if it's a repost, sorry.