Discussion Starter
•
#1
•
I really don't know where to hang this, since there isn't a night vision sub-forum. Mods, please feel free to move this if there's a more appropriate place for it.
IR lasers and dual beam aiming lasers (DBALS) are becoming increasingly popular targeting aids on rifles lately. In order to see the IR laser, you have to have either a night vision scope on the rifle or a night vision binocular/monocular. I started looking for a set of night observation devices (NODs) several months ago and recently bought an Armasight Spark CORE monocular.
As an Infantry veteran of 23 years, I've used everything from the AN/PVS-5 night vision goggle and AN/PVS-4 weapon sight to the AN/PVS-14 and -15 with a AN/PEQ-15 DBAL. So I know a little bit about what makes a good NOD.
I chose to go with a Gen 1 image intensifier tube (IIT) since this NOD is going to be used primarily for hunting pigs at night and for home defense. There was also a matter of cost. Gen II NODs will run from $1500-$3000, depending on the model and Gen III from $3000+. A Gen I NOD magnifies available light (starlight, moon light, ambient light from cities/towns) about 1000 times and provides visibility out to 100m or so. I no longer have to worry about going outside the wire, so I don't necessarily need a PVS14 any more. Around here, if something's outside the wire, it usually means the neighbor's cattle has broken the fence again.
Which brings me to the Spark CORE monocular. While I didn't need the robustness or clarity a PVS-14, I did want a well made, sturdy unit that could take some knocks and weather and still hold up. I'd also looked through a couple of cheap NODs using Russian IITs. Not impressed with them at all - usable visibility was about 25m with a lot of fish eye and fuzz. Then I found the Spark Core. Armasight's website was very well done and gave a lot of good info on the optic. I was impressed that the unit used a metal-ceramic IIT, like Gen II and III NODs as well as the 60-70 lines per mm (LPM) rating of the intensifier. I also liked the fact that Armasight sold an adapter that allowed me to use a rhino mount on an ACH.
The unit arrived yesterday. I was STOKED. I tore open the box and the unit came with a storage bag, battery and instructions. (Instructions? INSTRUCTIONS!? I'm a grunt. I don't need no instructions. Why, I came out of the womb with a set of NODs on.) Did a quick inspection of the NOD, attached the mount, stuck it on my helmet and went out into the night. Remember when I wrote that I wanted an optic that could take a little beating and banging? As I went out the door, I looked down and the unit fell off my helmet because I forgot how firmly you have to seat an optic on the rhino mount. Picking the optic up, all the while thinking of an excuse to give Armasight so I could get a replacement, I turned the knob on and the familiar green glow appeared. Looking through the lens, I saw that there were no chips, cracks or artefacts in the viewer.
Having completed an improvised drop test, the view through the NOD was impressive for a GEN I unit reminding me of the view from an AN/PVS-7. There is some fish eye but it's at the very edge of the lens, giving a substantial usable viewing area. I was able to clearly see an abandoned house 200m away with it under cloudy night time skies; I was pretty impressed with the range. Up close, I was able to see fine details throughout my house. The FOV of the Spark CORE is about 30 degrees, which is smaller than the 40 degree FOV I was used to in the Army and makes both eyes open vision somewhat problematic at this point. Eye relief is about 20mm, which is pretty close, a little less than an inch. The optic comes with a built in IR illuminator for total darkness and it proved effective out to 10m or so. For users wanting more IR illumination, IR heads for a tactical lights are available from companies like Surefire and Streamlight or you can pop for a more powerful illuminator module from Armasight itself.
The optic's casing had a very solid feel to it, like issue NODs and the controls are exactly like those found on issue NODs as well. The optic came with three mounting points on the casing that allows the user to adjust it to fit his face and his mount. The Spark Core is a bit larger, longer and heavier than a PVS-14, but not substantially so. I was able to wear it on the ACH with no problems.
The Spark CORE can be found for $450-550 at most optical e-tailers. From the factory, it's $600. I decided to spend the extra coin and order from Armasight itself, since I was unsure of the age of the units offered at such low prices. Ordering from the factory ensured I was getting the latest from Armasight. In fact, the rep I spoke to on the phone said they would
build
my unit and ship it out the next day.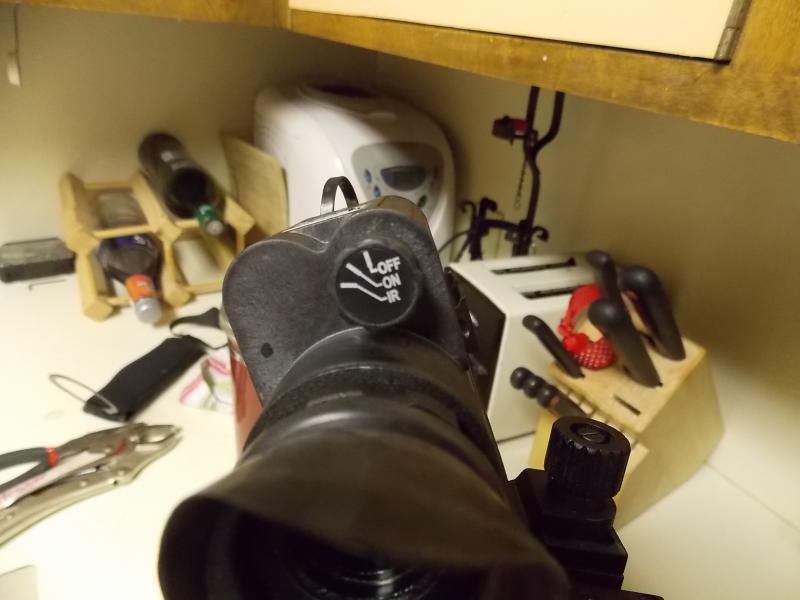 When I can figure out how to get a good pic through the lens, I'll post it up.