Discussion Starter
·
#1
·
For a little background, a huge part of my interest in clone rifles is the research and the history of how the weapons have evolved. In this way every clone i build in a way creates a pseudo personal museum. Some guns I have that are clones aren't even that good in some or alot of way but that doesn't diminish the historical niche they filled. I've spent months researching and scouring the internet and local stores for old/obsolete parts to get the right items for a build which is also rewarding in its own right once you find that illusive part.
So before anyone comes in and starts blabbering about how this or that part from whoever is better... thats not the point of this thread
In this thread I'd like to gather info on these rifles and start a comparison of how close to the mark they will be to their Mil issue cousins. I'm also not opposed to discussing other varients not FN produced but really want to stay on "as issued" or "as seen in the wild"
FNH USA - Distinct Advantage :: FN 15 Military Collectors Series
This looks like huge leap forward in getting a FN manufactured M16/M4 series rifle from the standard FN-15 series which were a disappointment in the clone aspect for me.
The biggest thing I am hoping for out of these is the appropriate roll mark on the lower, not the stylized fh rollmark on the FN-15.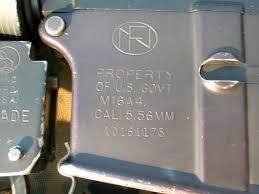 The UID label is also a nice touch, even if it reminds me of the pain dealing with the AIT system that came with GCSS-A transition
Another items I can nitpick is the ambi selector on the M4 and M16, this feature was introduced on the M4A1, and is not found on regular M4 and M16 unless it was a unit armorer modification.
A big plus is that the rifles comes with the KAC RAS out of the box!!! Although am surprised they display the guns with the rail panels installed on the 12 o'clock position. KAC recommends not putting them on that position as it reduces heat dissipation ad they are a giant pain in the rear to remove unless you completely remove the rails once installed.
I can live with the 16" barrel due to the NFA pains but would be nice if they offer 14.5" uppers or even a factory SBR option... I see the former much more likely though.
Will have to wait for more details to come out before more detailed comparisons can be made