Discussion Starter
·
#1
·
this first one i did a bigger more detailed thread on the process i did on this one, but i went back and refined a few things and did a green the same way (basically a TR but lower). The original has an ACOG on it, and i moved the EOT to this version. I CeraKote'd it and the EOT cover to match (im waiting on a black furnature EOT to match better). i LOVE the 2 tone look, altho the camera flash messes with the color a tad.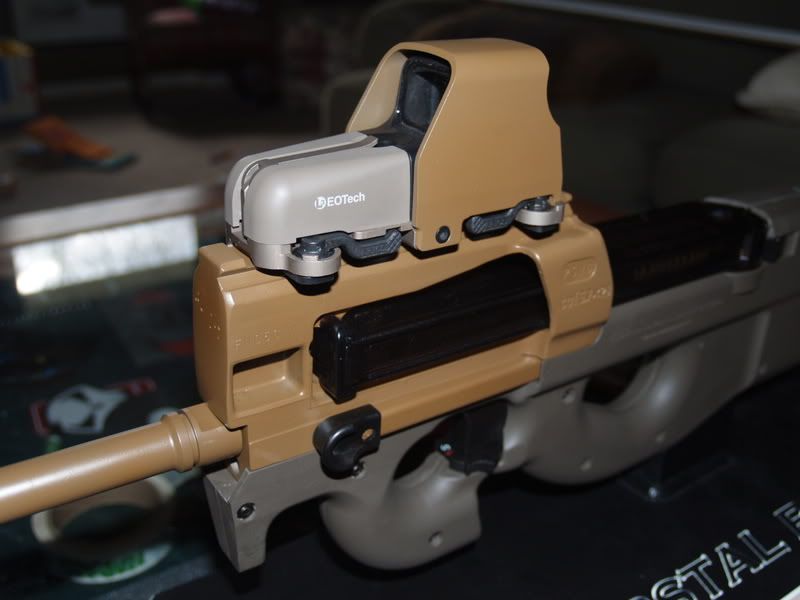 this is my newest version. its somewhat similar to what Thomson's replacement reciever achieves, except using the OEM reciever. Fed Ex dropped off this gun, i ran 100 rounds thru it to find any immediate factory flaws, and in under 20 minutes it was in the mill vice with a sawzall removing the unneeded parts. UGH, that feeling never gets better. i wish i would have taken some in progress shots, but it a one afternoon project, and i didnt have my camera at the shop. its CeraKote'd titanium blue.
i build this version to specificly use the Trijicon Docter site
but it works freakin perfectly with just about anything we have thrown on it...
im a nut for details (i blame my graphic arts background), but when i did this project, i took out ALL the casting lines, pours in the metal, and decked alot of untrue surfaces as much as possible. all the edges have a very gentle radius, and most importantly, the reshaping had to make sense in the overall design of the gun. rounded magazine, rounded reciever, rounded pic rail
both these have given me an idea for one last custom version. once the fun money fund recovers, i think ill tackle it. it will be an REAL oddball!