Discussion Starter
·
#1
·
In the Welcome section my first post was, "Owner of a FDE Elcan SpecterDR 1-4x for 7.62, but no SCAR 17 yet...". A few days later I got a call from FN saying that my SCAR and extra mags had shipped. I picked up my SCAR a few more days later and took it to my front yard to sight it in. Everything went smooth and we all had a great time comparing an older Bushmaster's ACR, a JLD PTR-91, and my M1A.
The next evening I got a call from Ken over at KERIF Night Vision asking what my serial number was on the Elcan. He said he might have accidentally sent out one calibrated for 5.56 instead of 7.62. I went out to my Jeep to check, and sure enough, it was a DFOV-14 C1. I was so excited to put everything together I didn't even notice. Ken immediately sent out the correct DFOV-14 C2 and said he would throw a couple extras in the box for my troubles. I didn't ask for any compensation, but I sure wasn't going to turn down any freebies. Ken just asked me to send the other Elcan back at my earliest convenience.
Today I received a USPS Priority Mail box with the correct Elcan and a couple of goodies. I grabbed my truck bag and walked to my front yard (I love living in the county!). I got on paper with two shot strings, and went back to 100m. I could have saved a couple rounds if I had read the Elcan's provided Operation Manual first.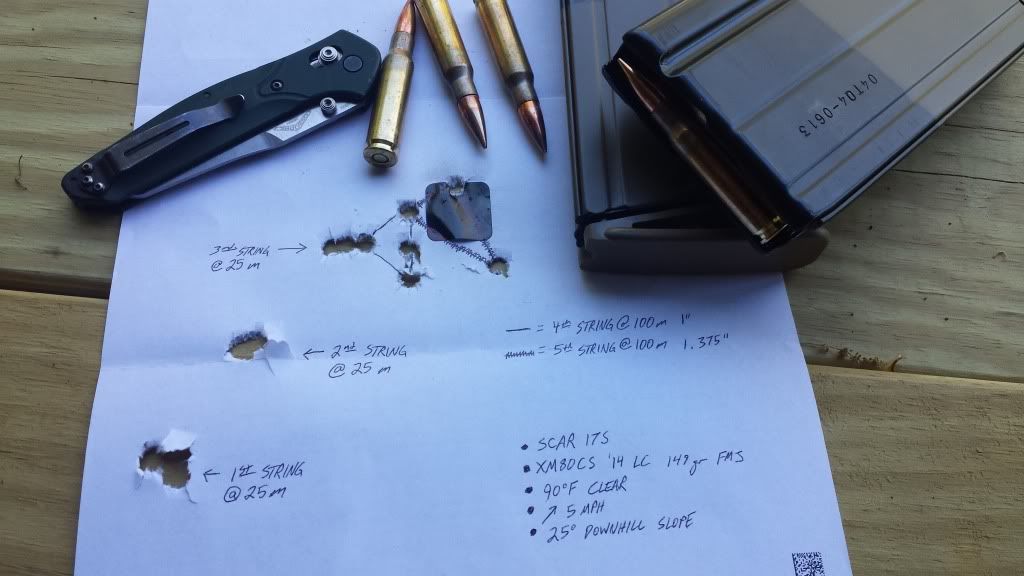 I really can't believe how well the SCAR 17 shoots with M80 Ball! I've never seen a M14 or M1A shoot less than 2 1/2" at 100m with M80. I can't wait to see what the SCAR will do with 168gr FGMM!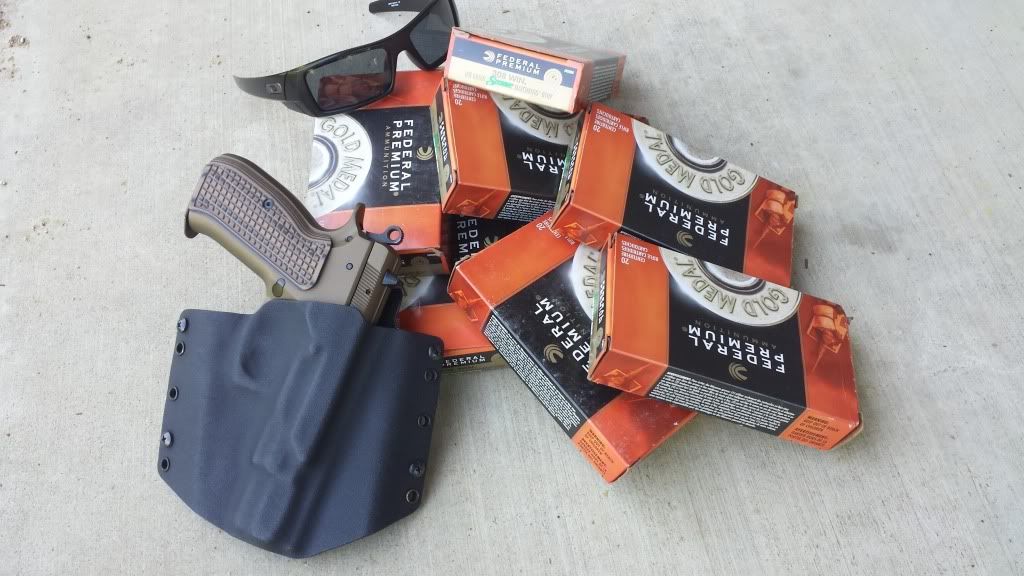 Though I have a undying love for the M14, I have to be real with myself. The SCAR 17 is better than my M1A in almost every aspect. I carried a walnut stocked M14 into combat before, and would not hesitate to do it again. Though given the choice between an M14 and a SCAR 17...I'd have to choose the SCAR 17. You can't justify carrying something that's heavier, harder to mount optics, and less accurate with de-link 7.62 just because it's cooler looking. I'm not trying to say the M14 is antiquated, but the SCAR 17 has several obvious advantages over it.
100m on 1x: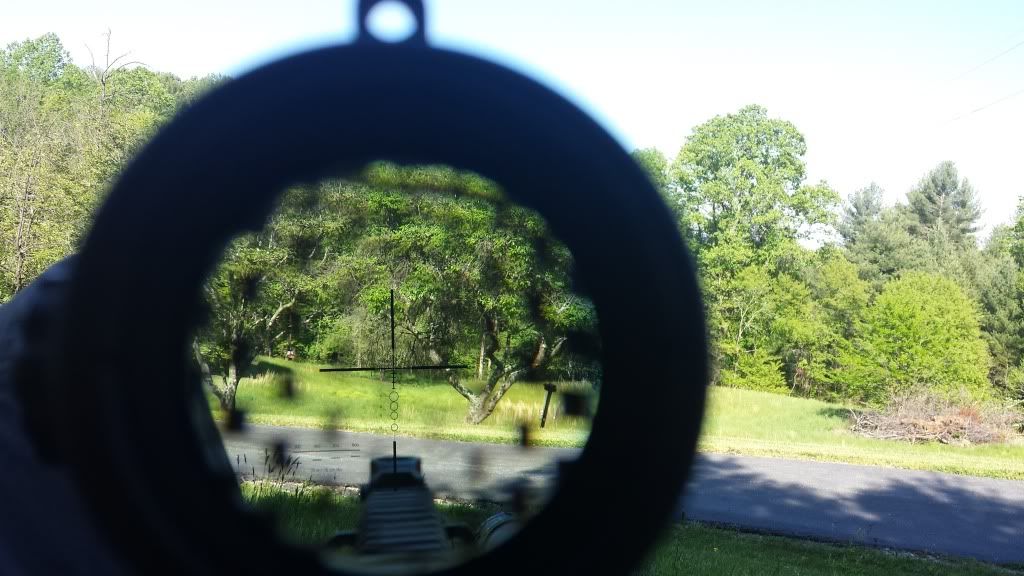 100m on 4x: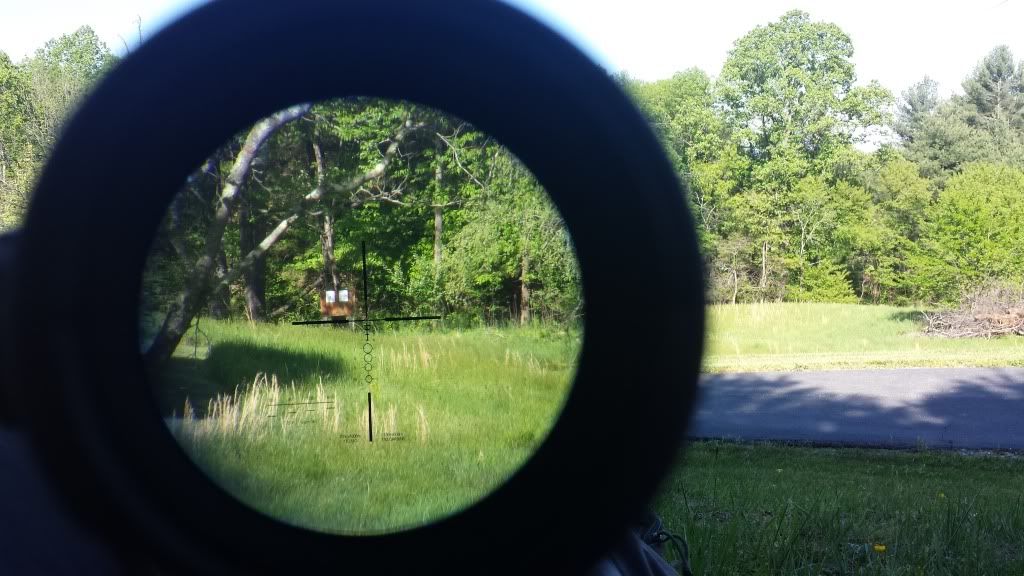 Bailey isn't gun shy a bit!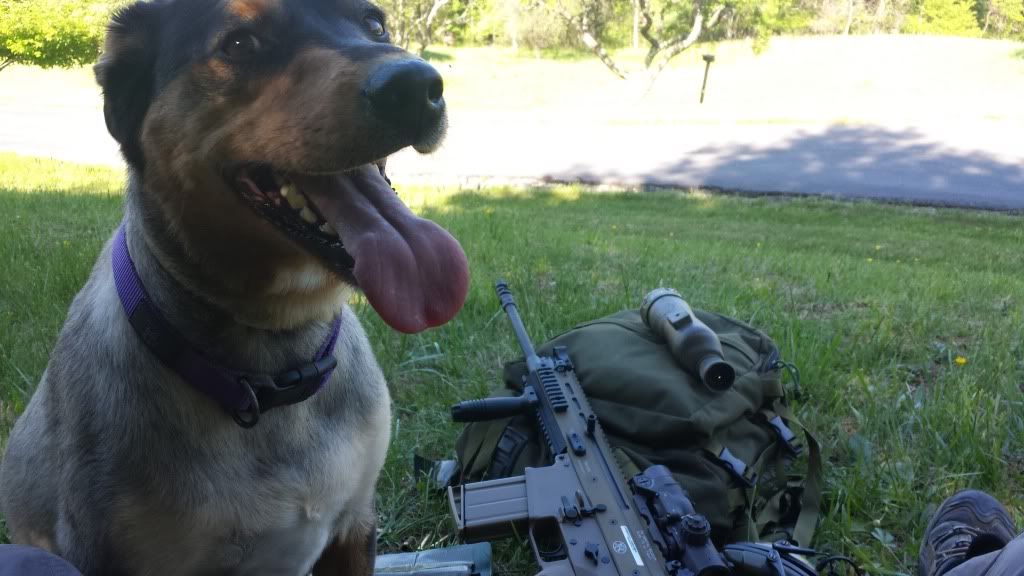 A big thanks to Ken of at KERIF Night Vision
Image Intensified Gen 3 Night Vision, Thermal, Goggle, Monoculars, Binoculars, Laser, Aviation, Weaponsights
, and Paul P. over at FNH! You guys are awesome!