Discussion Starter
·
#1
·
Please excuse the poor quality of these pics. I'll try and get some better ones outdoors when possible.
Here is my FS2000 with the Urban E.R.T. sling, Yankee Hill BUIS, and a Surefire M-3t mounted in the Forend: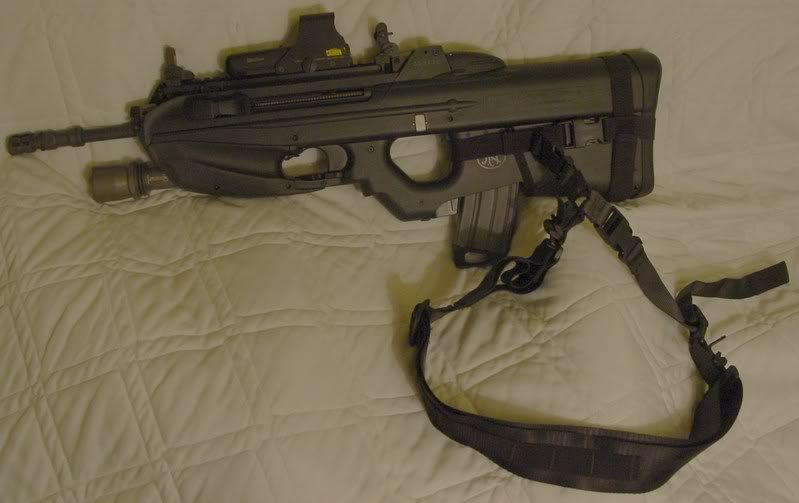 The sling is in Single Point mode in this pic. To get the regular Surefire flashlights to work you need the XMxx Dual Switch Tailcap Assembly. It runs out the upper rear of the forend assembly and out the side. I still need to rig the button for the push on/off.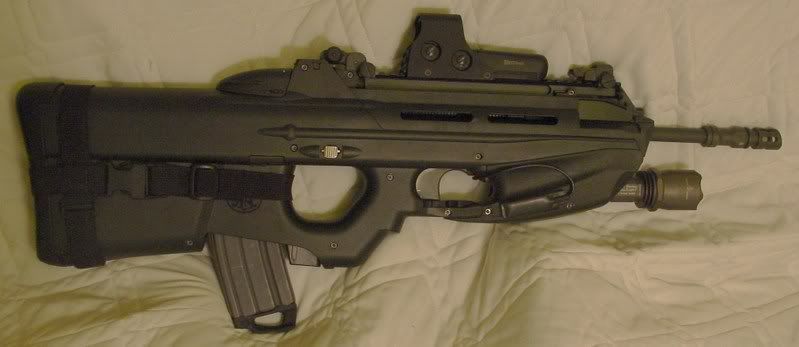 I went with the Yankee Hill sites because I wanted a set that would Co-Witness through the EOTECH. There are several good sets, the Yankee hills aren't too bad and you can use a regular site tool on the front site. I think the GG&G's may be nicer but for $320 vs $200 the Yankee Hills will work for now.
The mag is a Brownell's Chrome-Silicon with a Mag-Pull anti-tilt follower and a Magpul Ranger Floorplate. They worked fine if you inserted the mag with the bolt release at the rear and then released it. If you have the bolt forward and inserted the mag they would jam after the 1st round if you loaded 30. I don't out of habit so it's not an issue but it is something you might want to test if you are using the longer legged Mag-Pull followers they are a little tighter when loaded with 30 than some others I've tried.
Here's a comparison pic with an AR and a light:
The heads will interchange between the Surefire's and the XMxx Tailcap will also work with the 2 battery Surefire's. The 3 battery model just fits as you can see, it's against the rear and sticks that far out the front.
Both the FS-2000 and the AR are really fun to shoot. I like the trigger far better on the AR but the FS is just fun to shoot - I tried it with one hand at someones suggestion and it's balances better than my Smith 500 (kicks a lot less too
)..........................................................DJ