Discussion Starter
•
#1
•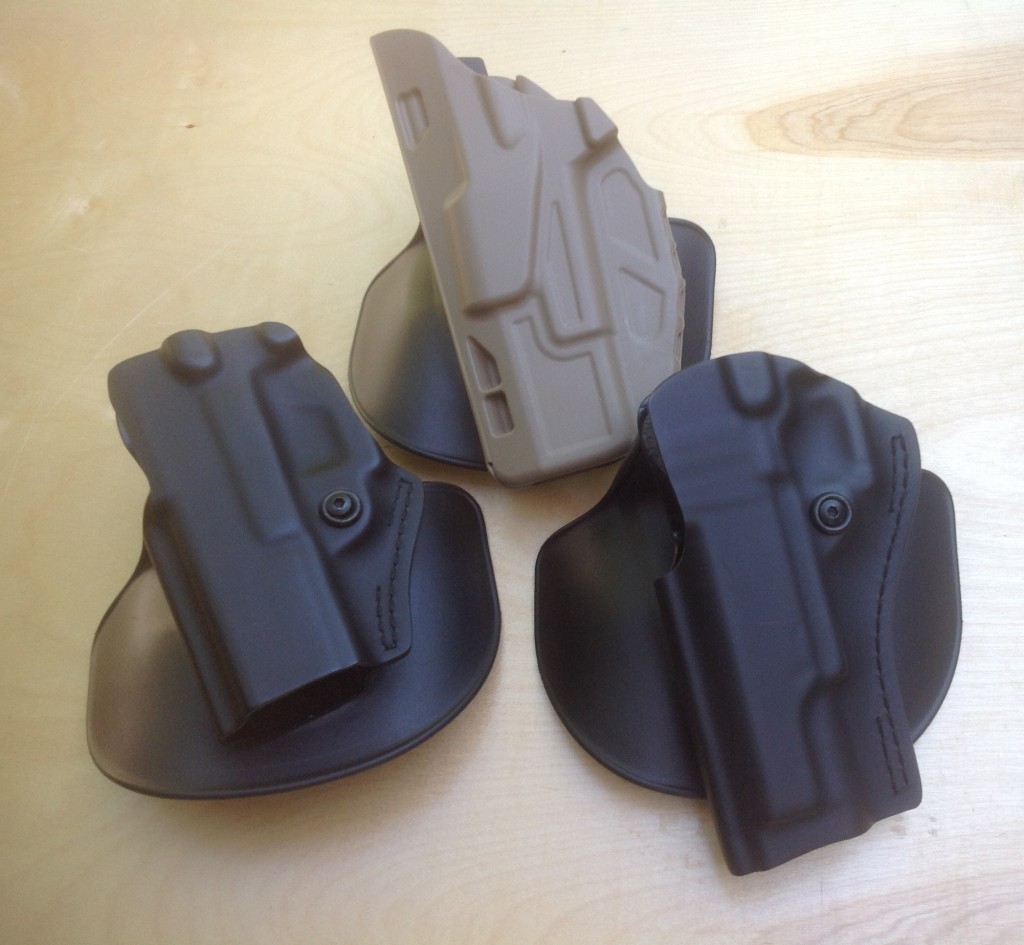 BY
Steven Harris
Many people who regularly carry a concealed handgun in street clothing find it necessary to take the weapon off and put it back on as part of their routine. Some IWB and OWB holsters accommodate that rather well with snap closures (when used with a perfectly matching belt). But, despite providing increased concealment and thus more choices in cover garment, not everyone likes an IWB holster, and the OWB snap closure holsters can be rather pricey and many of the sought-after makers have long turnaround time.
My approach has been to use the often maligned paddle holster. I have used paddle holsters for concealed carry, training classes, and competition. Naysayers usually have concerns with the paddle, including that it is bulky, does not provide a stable platform, comes loose on the draw, is susceptible to a "gun grab," ruins trousers or underwear, or is uncomfortable when compared to an OWB belt holster. After some 20 years running numerous paddle holsters as well as OWB and IWB customs, the only meaningful drawback I have found with the paddle is the likely increase in "print" when carrying concealed. Many paddle holsters work well for belts of varying widths where a slotted OWB will not. (I use 1-1.75 inches wide belts).
While a paddle holster is usually most secure and comfortable when placed precisely in the location where the designer/manufacturer intended, a real plus (to me) is that the paddle holster can usually be placed in
my
desired location irrespective of the location of pants belt loops. Various brands of pants and shorts have differently space/configured loops, — compare any brand of dress pants to khakis to jeans to "operator," "tactical athlete," or "adventure" styles (for example, Triple Aught, Cabelas, RailRiders®, Galls, Kitanica, TRU-SPEC®, Under Armour©, Vertx®, 5.11). That can become an issue with placement of OWB/IWB holsters. A second plus, some paddle holsters provide something akin to a mid-ride, if you prefer a higher riding holster.
Many of the paddle holsters I have used over the years are pictured above. All provide acceptable comfort and stability, including when driving.
Safariland
has become my all-around non-leather favorite (top photo, models used for Glock 19/21/32 and 5 inch 1911). In leather, I have carried extensively the
Kramer Michigan State Police or MSP
(horsehide, used for 4 and 5 inch (Wilson Combat version)1911s, shown in the second photo, there is a women's version). I also like the Comp-Tac integral and screw-on paddles (
digital camo Glock 21
, and
5 inch flat top slide 1911
shown, third photo), and yes, even the often vilified BlackHawk Serpa (5 inch 1911 and Glock 19/32, shown in the bottom photo, with a Safariland K/L frame 4 inch revolver holster model).
Read see more:
http://modernserviceweapons.com/?p=5956&utm_source=rss&utm_medium=rss&utm_campaign=in-praise-of-the-paddle-holster&utm_reader=feedly