Discussion Starter
·
#1
·
when I found out that I got a FNP-45 USG FDE. Based on the discussions, there is confusion around what is actually available versus what is shown in the FNH catalog. I even posted trying to understand the difference between a USG and non-USG model (for those that don't know, it appears the big difference is the serrations on the slide and the slide is thinner).
To make a long story short, I had contacted a local dealer that deals with CDNN since they seemed to have the best price but they didn't have any in FDE. Well, the local guy asked if he could try to find me one and I said sure. He came back and told me he had found one and I told him to get it. Based on the model (47938) and FNH's catalog I thought I was getting a FDE non-USG with Manual Safety.
I was pleasantly surprised when I opened the case and saw this (notice the rounded clip, this is the 15 round clip. The other two in the case are the flat bottom 14 round clips).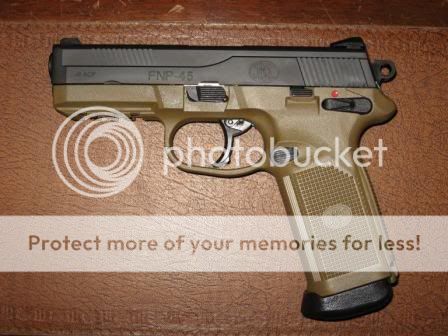 Below is the tag on the case which clearly labels this as an USG.
I had called FNH directly and talked with someone (I think it was Bob) and I got the impression that the only FDE model available was the non-USG version (maybe he meant in FNH inventory). Whatever, the case I am happy and can't wait to take this out to the range. Unfortunately, that will probably be after Christmas due to rain and work.
I will agree with others that everything you get when you purchase this gun is impressive. The local dealer said he hadn't seen one before and was really impressed with it design and how good it felt in your hand.
I'll update after taking it out.