Discussion Starter
·
#1
·
This is just a heads up of the New LaRue Tactical 30mm Pivot (flip-to-the-side) Mount QD model LT-649
I think this is very rugged design for a flip magnifier mount, LaRue kept the parts count to an absolute minimium as possible and with the pivot point off of a robust 5/16" diameter shaft pin.
There are no buttons, no switches, no small places to fill with sand.
It's also a one-handed operation which the user simply grab the optic, pull back, then move it to the side and release your hand from the optic.
Very simple.
The model LT-649, shown in the pics, fits 30mm, such as Aimpoint's great 3X magnifier as well as other brands of 30mm magnifiers.
I have LaRue's EOTech QD mount model LT-110 and it's very rugged, returns to zero everytime, the machined from solid billet locking lever is the strongest in the industry, there's also a safety lock on the mounting lever so it won't accidentally open, plus there's a mounting Mil-Spec rail at the rear for magnifiers, night vision gear, etc.
LaRue also makes various quick detachable scope mounts, scope risers, Aimpoint mounts, ACOG mounts, Leupold CQ/T mounts, Iron Dot picatinny mounts for small red dot sights, NV mount, BUIS, gas blocks, tactical light mounts, single piece Mil-Spec handguard rails, bipod mounts, sling mounts, tactical slings, knives, and sniper targets.
Their handguard rails have a locking mechanism design which locks the locking ring and prevents it from getting loose, which is the main problem of free floating rails in the field.
LaRue's handguard locking bracket
Ref. LaRue Tactical Handguard Assembly Instruction:
http://216.23.214.70/lt/handguards.html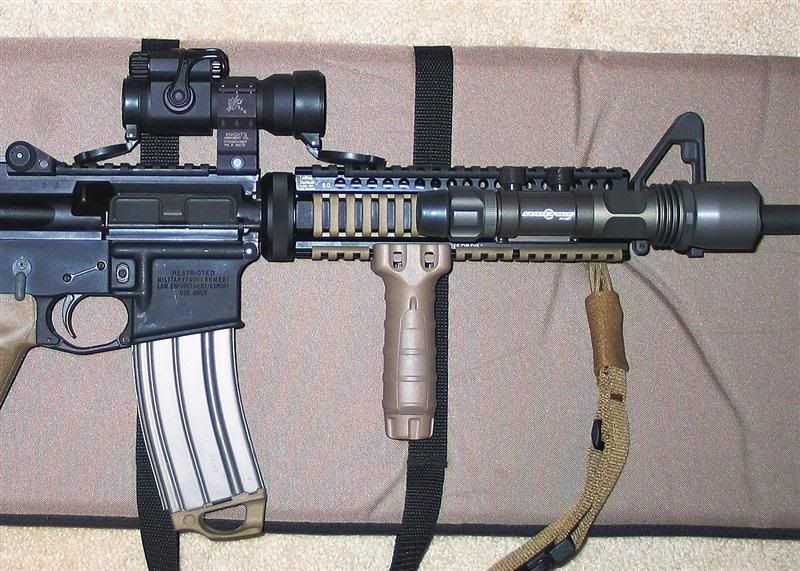 My LaRue 9.0 midlength gas system rails
LaRue also have their new Stealth machined billet AR flat top upper receivers which are precision machined for tighter tolerances which precision rifles requires.
Also new is LaRue's complete upper half Stealth Sniper System LT011 which includes the Stealth upper receiver, free float rails, and LaRue's new proprietary spec barrels, they are available in 10.5" and 16" barrels.
For details and more pictures of any LaRue products here's their website link:
http://www.laruetactical.com/
Note: I'm in no way connected with the company, I'm just a very loyal fan of their products.