Discussion Starter
·
#1
·
I had a chance to take a long-range precision class from
Modern Gun Craft
a few weeks ago. It was a cold and wet weekend but I'm glad that I stuck it out. Any time you take a class you walk away with information that makes you a better shooter.
The class was hosted by Mark Davis, founder of Modern Gun Craft, who brought in Cris Green to teach the long-range class. Cris has a list of credentials, so long it will make your head spin. His 30 years of shooting experience went from informal to formal as a sponsored junior shooter for the Texas State Rifle Association. He competed at a national level in NRA Service rifle and Long-range. He was accepted to the United States Army Marksmanship Unit as an initial assignment. At the USAMU he was a semi-professional athlete in Service rifle and Long-range disciplines. He also taught at Squad Designated Marksman Course. He left after 4 years to deploy to Iraq on two combat deployments as an Infantryman. Between deployments, he was an Active Duty Instructor for the Small Arms Master Gunner Course, Squad Designated Marksman Course, and Sniper School. He holds High Master and Master NRA classifications in Service Rifle and Long-range. His military awards include the Combat Infantryman's Badge, the Airborne badge, US Army distinguished Rifleman's Badge, and the President's 100 tab. He has 5 years of experience in Law Enforcement in Texas and is a graduate of TCOLE certified SWAT and LE sniper schools. Cris is currently the General Manager of Site Industries, a CNC manufacturing company, and Executive Vice President / Gunsmith for Alamo Tactical in San Antonio, Texas. He has been teaching firearms use and tactics to Law Enforcement since leaving the military.
Requirements for the class included a rifle capable of shooting 1 moa or better, 150+ rounds of match ammo, shooting mat, rear bag, data book, and 5 one-gallon Ziploc bags. Silencers were an option but highly recommended. Since I work for Silencer Shop I offered to bring out silencers for all of the students to use during the class. A few of the students took me up on the offer and used some of our silencers in the class.
We started the class on Saturday and it was cold and wet from the rain the night before. The day started off with a few hours of classroom work starting with basic range rules and quickly moving into the meat of the subject. Covering caliber choices, optics, chassis systems, and lots of formulas for long-range shooting, we moved to the shooting part of the class quickly. Even though there was a lot of information to cover, Chris made sure that everyone was up to speed before moving on to the next topic. One thing that was emphasized was that this is was to be a low-stress learning environment where questions are more than welcome. It was more like a live fire seminar, with open and informal discussion. Also, it lacked ego, war stories, or product plugging.
Starting the shooting portion of the class, we all sighted in our rifles and confirmed zero. Cris focused on this part to make sure that each of us were completely comfortable with the gun and scopes that we were using. It was an important part of the day since everything from here out would depend on the making our zero as precise as possible. After all the rifles had confirmed zero we figured out what the plastic bags were for. It started to rain fairly hard so we packed everything up and took a lunch break.
When we came back it was still raining but when we signed up for the class we knew things would go on rain or shine. We used the bags for the data books and note pads so that we could write down notes and data in the rain. After about 20 rounds of ammo the rain got so heavy we couldn't see the targets. So we went back to the classroom for some information about weather conditions and how they affect long-range shooting. Along with more formulas and theories on shooting, our brains were almost spilling over with the information. By this point the rain had slacked and we went back to the firing line. After I got about 3 shots out of the gun, a lightning bolt hit the ground about 100 yards in front of us. A unanimous vote said we were done for the day and would start back up in the morning.
The weather the next day was great and perfect for a long day of shooting. We pulled out our gear and reconfirmed zero quickly and got to shooting. We covered targets ranging out to 500 yards of various sizes. Since this was a basic precision rifle class we stayed within 500 yards and focused on accuracy. Putting to use all of the information that we had learned in the class the day went by fast. Cris covered various topics including multiple shooting positions that pushed our skill levels.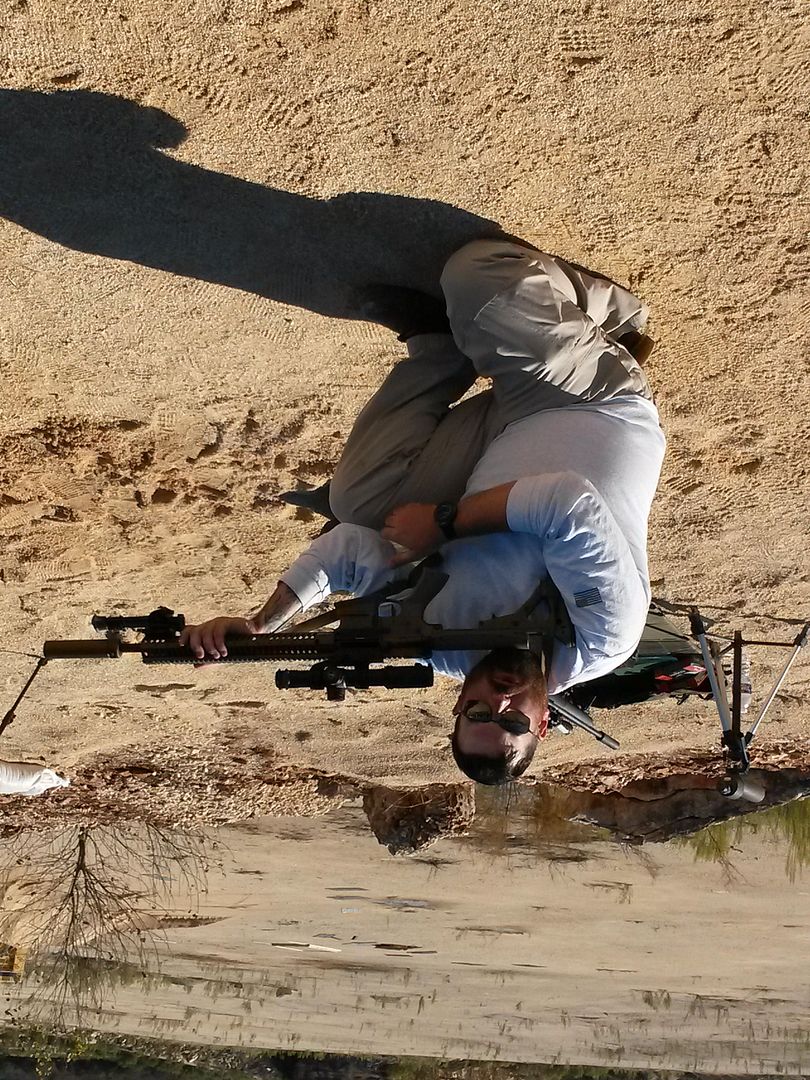 At the end of the class we all walked away with a ton of information and a desire for more training. Cris also offers more advanced classes which everyone was eager to attend. The students who didn't own silencers learned the advantages of shooting suppressed and were making plans for silencers of their own.
I highly recommend that you get some firearms training, and Modern Gun Craft is top notch. Mark Davis has several classes that he offers from pistol, carbine, shotgun, and precision rifle. Look them up at
Modern Gun C.R.A.F.T
or check them out on
Facebook
.