Discussion Starter
•
#1
•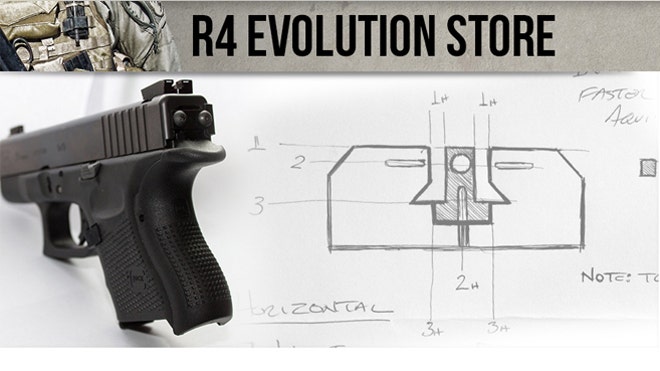 R4 Evolution, a new company with roots in the Special Forces community, has developed new pistol sights designed for a clearer sight picture and faster shots.
The
Optimized Duty Sight
, or ODS, features multiple horizontal and vertical alignment points.
The base of the front sight is designed to fill a notch that's cut out of the bottom of the rear sight, so if your sights aren't aligned you see daylight. There is a white vertical line at the base of the front sight that lines up with a matching vertical line at the base of the rear sight. And the rear sight is equipped with two horizontal lines near the top that line up with the dot on the front sight.
The ODS designer, a retired Special Forces sergeant major and cofounder of R4E, describes it as the "crooked-picture-on-the-wall concept. "You walk into the room; you see a crooked picture on the wall, what does your eye automatically want to do? It wants to fix it," he said at SHOT Show 2014.
The designer didn't want to be named, but he spent 23 years in the Army's 7th and 3rd Special Forces Groups and also played a key role in the Special Forces Close Quarter Battle/Urban Operations courses and the Special Operations Target Interdiction Course, now known as Special Forces Sniper Course.
The ODS also features angle facets on the rear sight to allow the shooter greater target visibility while maintaining sight alignment.
Both front and rear sights are designed with a slight reverse slope to help them bite into belts, steering wheels or any edge for racking the slide.
When lined up, these features are designed to draw attention to the front sight.
Read more:
New gun gadget promises faster, clearer shot | Fox News