Greetings all.
You might remember me from before. I briefly owned an FNP 9 USG in stainless but sadly had to let that one go. I really liked the firearm alot and so recently an opportunity to pickup another USG again really cheap presented itself. I couldn't say no so I jumped on it.
Here she is.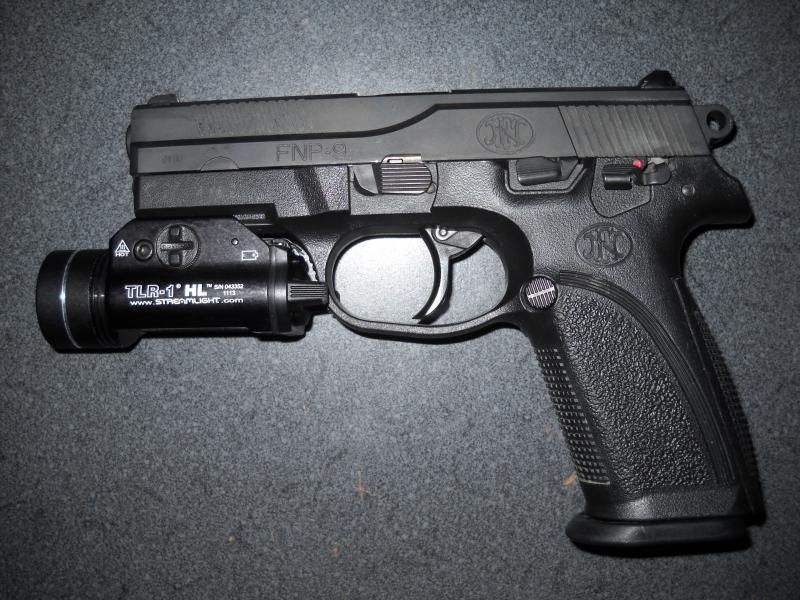 I had purchased the TLR-1 HL for my Mossberg 500 but slapped it on the FN to see how I liked it and well I'm afraid I'll be buying another TLR for my Mossberg again lol
Haven't had the chance to shoot this yet but with the way the last one worked out for me I expect good results down range. Sadly the seller had misplaced the flatter backstrap and one of the three mags so I only have two. He might give me a call if he ever comes across them he said but I'm not counting on it. The mags although expensive IMO are easily found at online retailers so I'm not too worried about picking up another one or two. The backstrap however is proving to be difficult to find since these FNPs are officially dc'ed now.
I'll try calling FN customer service Mon morning but I won't be surprised if they've run out and have no more to spare. I guess then I'll be asking kindly here on the forums if someone happened to have one they could spare. I had swapped for the flatter one before and it really fit my small hands better but I can work with the fatter one if needed if I can't source one.
I also think I might invest in a set of night sights this time around. Googling for them they are not that expensive and still available at a few places.
Good to see the holster selection is much improved than it was back then. Still slimmer pickings being a southpaw for an off the shelf solution. Now that I have the light on there I'm thinking custom kydex is probably the best shot I've got.
http://www.tac-tech-cal.com/
So far this company has peaked my interest and thinking of giving them a shot. Anyone else use them for an FNP holster?
Feels good to own one of these again. If those darn five sevens and the ammo for them were not so expensive I'd love to to have one of those one day but for now this one will do. Also might be purchasing an AR upper from Palmetto State Armory that utilizes an FN made barrel so I guess I'm officially on the FN bandwagon again. Good to be back.
Cheers
J