Discussion Starter
•
#1
•
Primary Arms 1-6x Scope First Impressions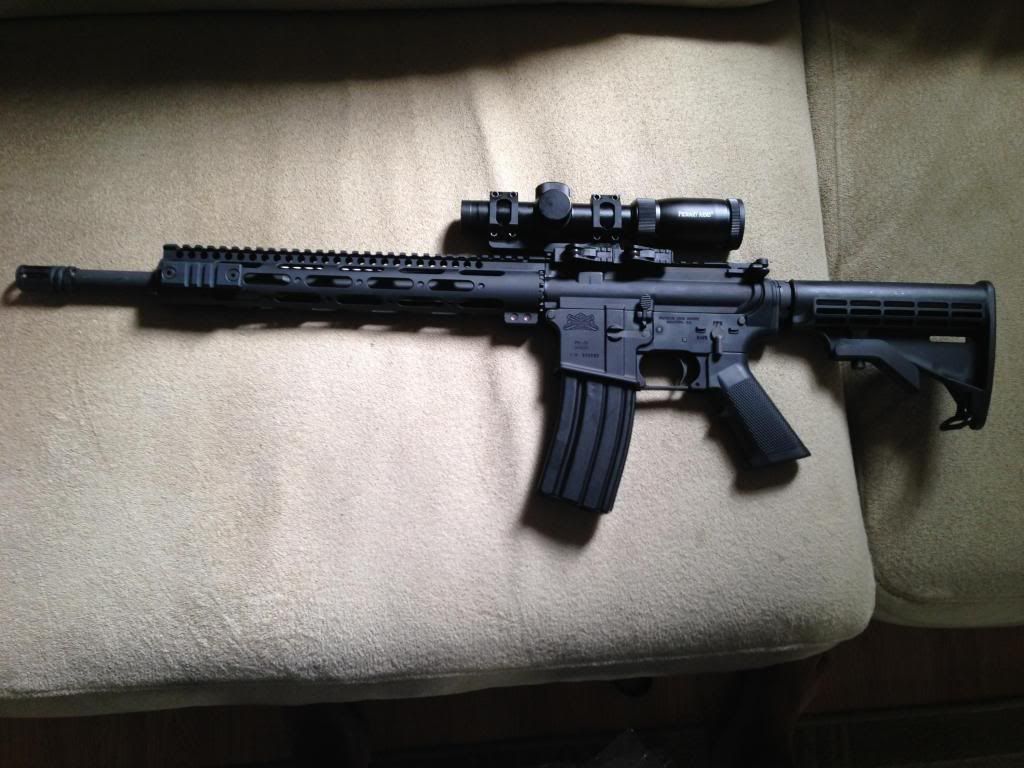 Since I am an early adopter and there are no reviews out yet, I thought I'd be the first one to review the Primary Arms 1-6x scope.

Disclaimer: This is my first low powered variable scope, so take that for what it's worth. That said, I have been researching and reading reviews for months on them, as well as looking through a few at local stores.
I AM NOT A PROFESSIONAL PHOTOGRAPHER! I only have an iPhone and limited space to take pictures. I did what I could with what I had. The lighting in my house is bad, I tried to keep as much glare out of it, but I could only do so much. So don't criticize too harshly. Keep in mind that this is my first review. I have been reading them forever so I figured it was my time to contribute.
With that out of the way, here is my unboxing review and my initial impressions of the Primary arms 1-6x scope.
Let's start off with the specs from the website:
Price: $250

Tube Diameter: 30mm
Magnification: 1-6X
Exit Pupil: 10.6mm at 1X, 4mm at 6x
Eye Relief: 122mm at 1X, 99mm at 6x
Field of View:
92.4 feet @ 100 yards at 1X
15.7 feet @ 100 yards at 6X
Click Value: .5 MOA
Length: 9.53 inches
Net Weight: 1.04 lb
Red Illumination
Fast Focus Eyepiece
Waterproof
Fully Multi-Coated
2[SUP]nd[/SUP] Focal Plane
6063 Aluminum
3 Year Factory Warranty
Unboxing
The package came in your regular cardboard box, like everything else you have ever ordered off the internet. I also ordered an American Defense Recon 30mm mount with it. When you order them together (there's an option on the scope page) you save around $20 on the mount. Since I had no mount, this was a no brainer. I also received a Primary Arms sticker, a save $10 on an NRA one year membership ad, and my order information.
My order totaled
$389.94
not including shipping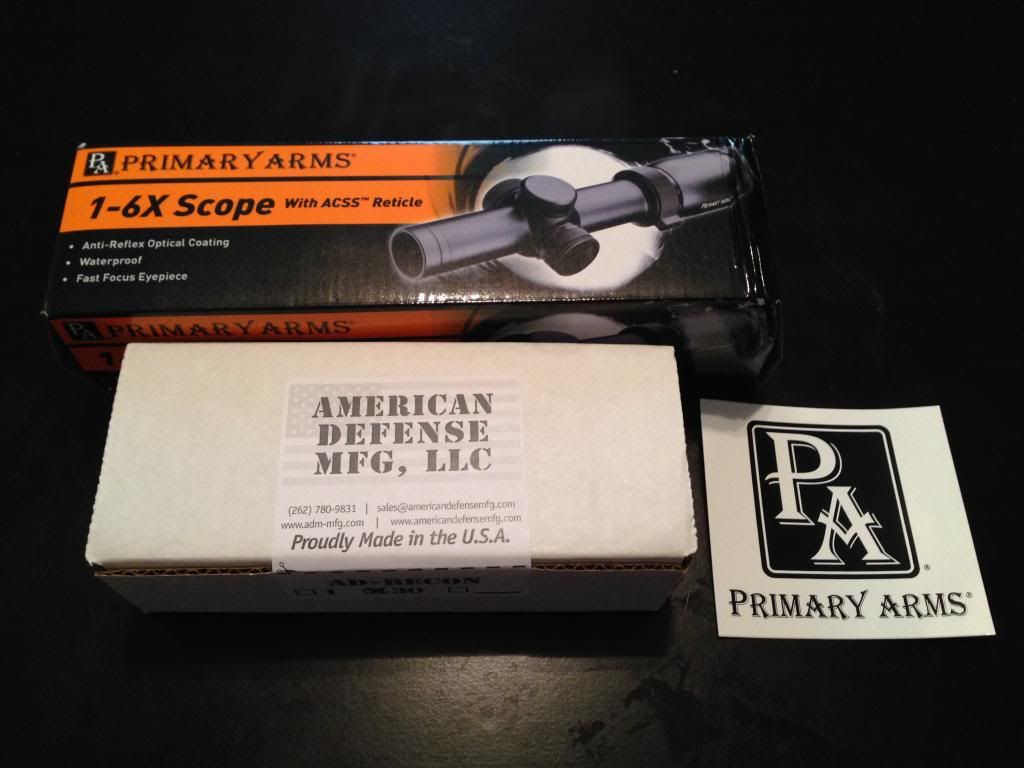 The Mount
The package contained my mount and my scope, with the American Defense mount being in a white cardboard box.
Opening the Recon Mount's box exposes the mount itself, as well as an Allen wrench and some Vibra-tite threadmate. The threadmate prevents fasteners from losing due to shock and vibration. It also comes with instructions. When I unbagged the mount, it was COVERED in oil. I guess that's normal? It had so much oil its covering all sides of the bag the mount was in. It was easily remedied by a paper towel.
The Scope

The primary arms packaging was nice, however! It has a nice picture of the scope and its features. The package was slightly damaged, which I expect from the shipping companies in the first place, so it wasn't a shock. The scope is a 1-6x scope. I assume it is 1-6x24, however, there is no indication of that anywhere on the packaging or website.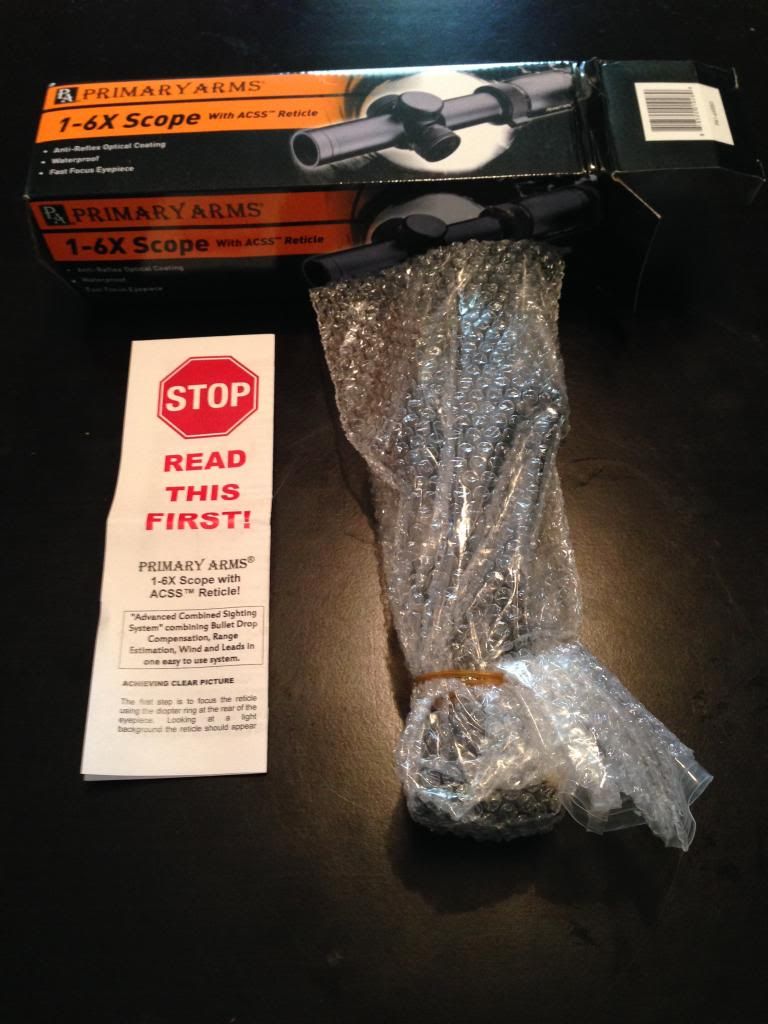 Opening the package reveals its contents:
· The scope and flip up scope covers
· A cleaning cloth
· An adjustment tool
· An instruction manual
The scope was covered in a plastic wrap, followed by bubble wrap. The cleaning cloth and adjustment tool is hidden in the bubble wrap that covers the scope. Granted, it's not a great means of protection, but it's better than nothing.
First Impressions
Background

I originally wanted this scope because of the ACSS reticle. The versatility of a reticle designed for long range holdovers at 6x, with a reticle that is actually useful at CQB distances really appealed to me. I looked at scopes from Burris to SWFA to Nightforce. I specifically wanted certain features in whatever scope I bought. Those features are as follows:
· Exposed turrets were a must (
UNLESS
the reticle was designed for holdovers!)
· The reticle had to be 2[SUP]nd[/SUP] focal plane and not too busy
· It had to be rugged
· The glass had to be of decent quality
· True 1x
· Good value for my dollar
· Did not have illumination on the scope tube (They look RETARDED to me)
· Did not exceed 10 inches in length (Once again, RETARDED!)
As you see, I didn't stick to
ALL
of those features. After searching, I could not find a scope that had these features at a decent price point. Reticles were either FFP or too busy, so I began to run out of options. Then I found the announcement for this jewel on the primary arms blog. Could it be? An answer to my Prayers? I patiently waited and waited, then got tired of waiting. I began to search for different scopes again. I looked at a Trijicon, and was impressed. The scope was brand new, and being sold for $750. I almost caved… but the reticle had no holdovers or mil dots so I didn't do it. I also looked into the Leupold VX-R patrol with the Firedot reticle. Had this scope been a true 1x, I would have bought it. The scope had almost everything I wanted but the 1.25 (actually 1.5x from what I read) turned me off.
There is no way to determine durability in a scope that is new to the market, so I had to trust primary arms. I have one of their micro dots, and although it's not an Aimpoint, it does feel solid... unlike most other made in China products I have used over the years. With a weight of 1.04 lbs. or 16.64 oz. it has to be semi durable, right? I guess time will tell. As far as glass quality goes, I had to trust the reviews from their other scopes. I don't expect Nightforce quality, rather something that can compete with Vortex or Hi-Lux. Lastly, I really did not want to spend over $1k on an optic if I didn't have to. That leads us to this: I am not going into harm's way on a day to day basis, and I rarely have the opportunity to shoot. That's not to say that this isn't a battle worthy optic, but I won't be using it as one. If things go south I may have to, but this isn't being marketed as a battle optic, so that's that. I have an Aimpoint for that. For peace of mind, would a really expensive scope have been good? Absolutely. However, I have bills to pay, and as a college student, money doesn't grow on trees. Mind you, I would have paid $1k if I really thought wanted to, but nothing on the market had the features I wanted at a price under $1k. So, I could have paid more to have a different scope, but I decided that saving my money for other necessities is more important. With a three year warranty, I know Primary Arms will stand behind their product. They have received nothing but praise from the shooting community, so as I said before, I trust Primary Arms. If it fails after 3 years, I am only out $250. After all, Primary Arms gives me the impression that it is here to help us shooters. If another brand made the same scope to the same specs, it would have gone for more money. This can be debated, but this isn't an argument, so save it. It is merely my personal opinion. Call it fanboyism or what you will, but I evaluate a company for who they are, their product, whether or not they stand behind their product, and what they stand for.
The Primary Arms 1-6x Scope
Now that we've gone over the fact that this scope has all the features I want, let's get down to the meat and potatoes. There isn't a lot to say, however, the reticle is really nice. The instruction sheet shows all of its features.
Features:

o Lead dots for leading your targets. They are set for the average target speed of 8.6 MPH. Best used for 100-300 yards.
o A range finder is featured on the right side of the reticle, using a 5'10" target, it gives approximations out to 800 yards.
o The obvious BDC, out to 800 yards (featuring a chart for different loads and calibers).
o Wind estimation
(Refer to primary arms videos and other instructions for more details about how they work)
Pictures



Stock Photo
The Reticle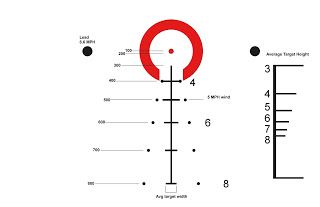 Out of the Package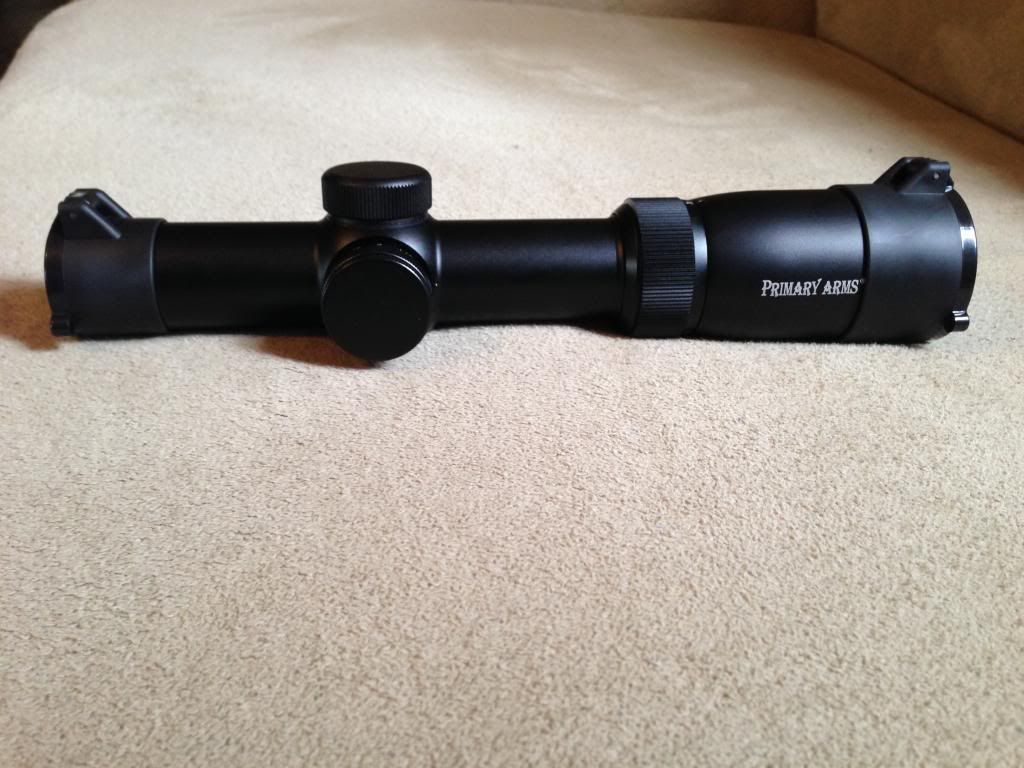 Comparison Distance (for 4x and 6x)
At 1x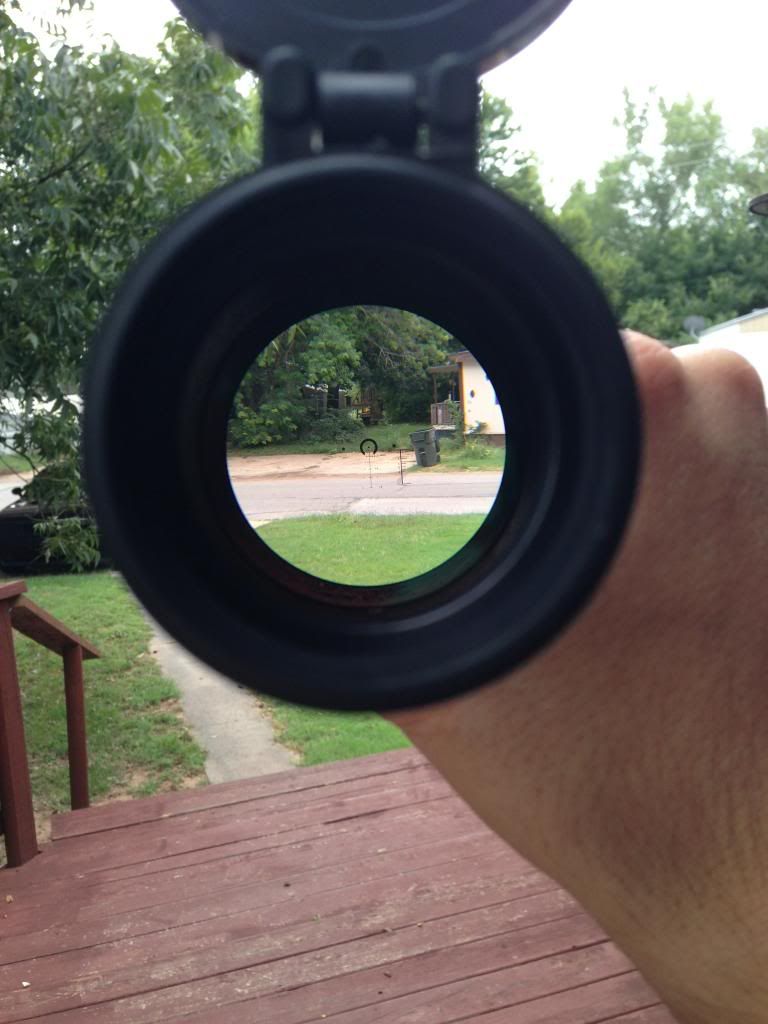 At 4x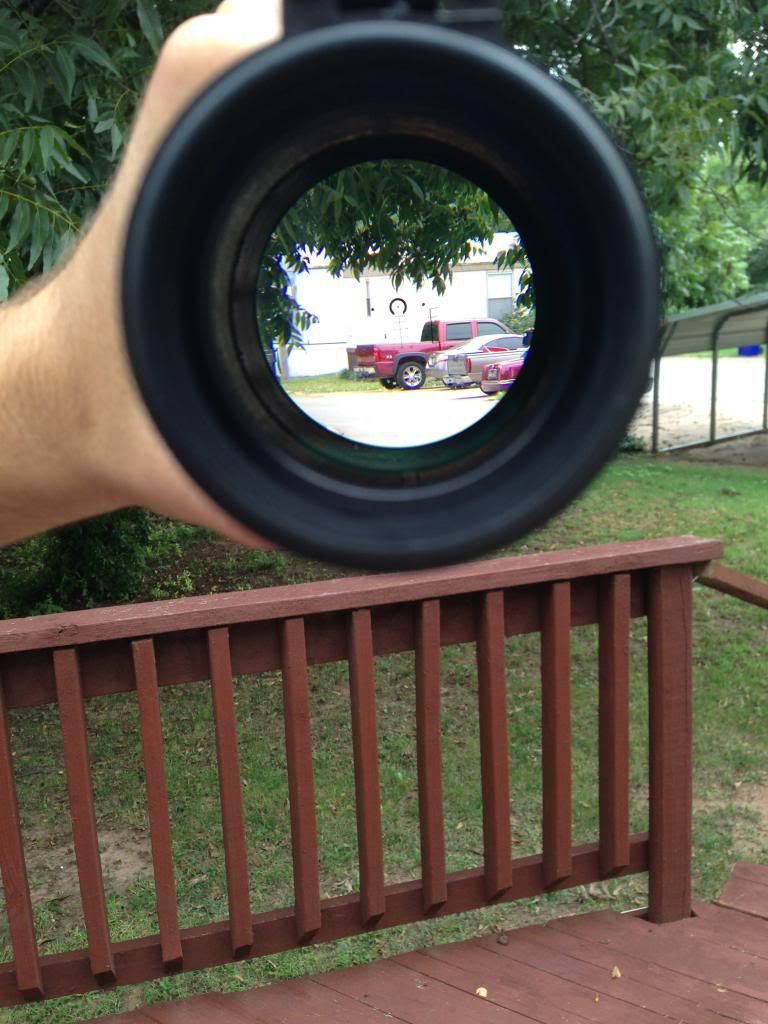 At 6x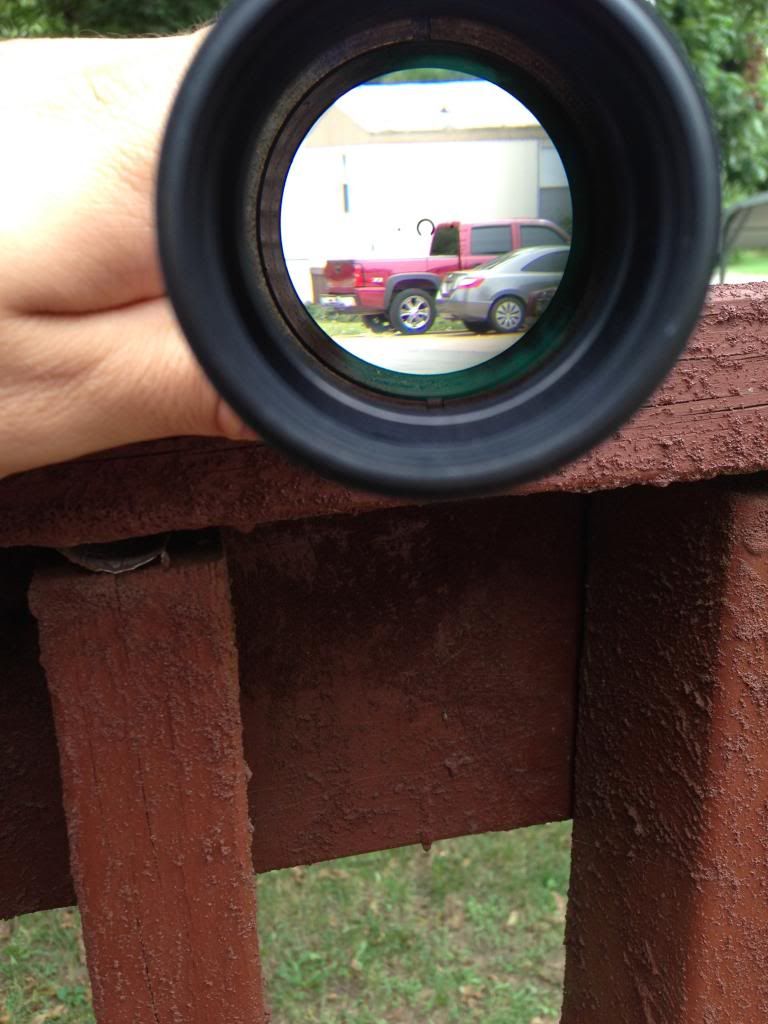 Illumination
Let's start with the dial. The Illumination dial is very difficult to move. It's not impossible mind you, but it is very mushy feeling with no audible click for each setting. In between each setting is an off-setting, so you can leave it near your preferred brightness setting without having to rotate the dial all the way around to get it where you want it. There are 6 brightness settings. The illumination isn't really daylight visible. At the 6[SUP]th[/SUP] (highest) setting it's about equal to the Burris Mtac, but probably a little less bright from what I remember. On a rainy day it is certainly daylight visible. As you see, on the highest setting, there is some bleed. The reticle actually looks like a darker red in person but the bleed is still present. Earlier when it was sunny, it was not noticeable. But in the dark when going to that setting, it bleeds a lot and has a weird smudge look to the glass, rendering it almost unusable. I say unusable, which is true in the sense that it is a huge distraction. It only happens in the dark areas of my house (it's a dark day too), and it happens on settings 3-6. The 6[SUP]th[/SUP] setting is the worst, and it decreases a little with each setting down to 3, where it still exists but is definitely useable. I can't notice it on setting 2 or 1. Setting 2 is perfect for those dark spaces and setting 1 would be more than sufficient for nighttime. So there are problems with the illumination, but they're not excessive by any means. Just stay away from high settings in low light and you will be just fine. Overall, I am pleased with the illumination, despite its quirks. The following pictures aren't all that accurate. You need to see them for yourself, but you get an idea.
Low Power
Intermediate Power
Rainy Day Illumination (It's Raining, I Swear!)
6th Power Light Bleed
Illumination "Smudge" at 6th Power (Not as dramatic as it looks)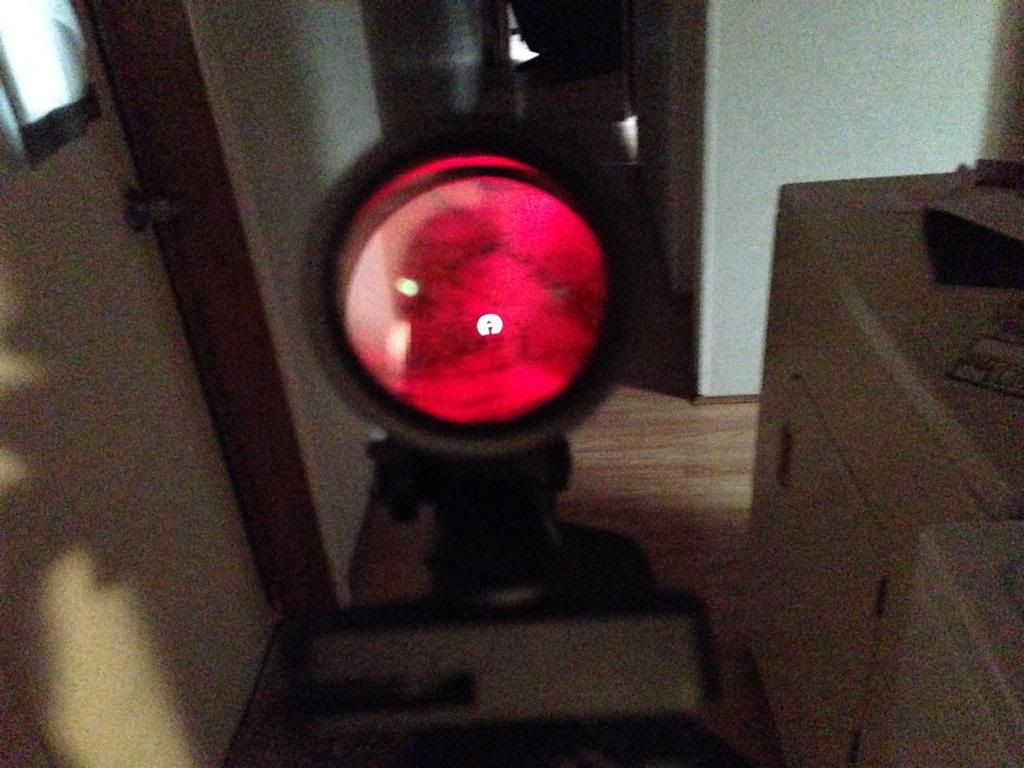 The Scope Itself
I will cover everything else in this section. First off, for those that don't know: Use the focus dial immediately!! I ignored the large "STOP READ THIS FIRST" sheet and went about my business. I forgot you have to manually focus the scope so I was wondering why it was so difficult for my eyes to focus through the scope. I have superb vision and have no issues seeing through other scopes ('cept the cheapies) so I was dumbfounded. So do that first. You definitely want to read that sheet as it has all the important info for the various features and even a small DOPE sheet for various types of ammo and calibers. This particular scope is designed for 5.56/.223/5.45, and even some .308 loads. Another scope is to be released for 7.62x39/.300 AAC in the future.
Moving on, the turrets are hidden under the caps, which are very solid. The turrets feel kinda mushy, but at the same time they do make audible clicks for each one. It's a weird combination I know, and others may disagree with my evaluation. Next is the body. It is made of 6063 aluminum. I don't know how that stacks up compared to other metals… but it certainly feels good and sturdy! I held the Trijicon a week before this, and they feel very similar in construction, with Trijicon having the better glass. "But the PA is made in China, teh Trijicon rocks dude!" Its apples to oranges I know, and they are marketed to different shooters. I am just giving a small thought that went into this brain of mine about the feel of the construction. Time will tell how it holds up. I would really like to see somebody torture test this thing though (Maybe one day…)! The scope covers do what they should, but the rear one annoys me. I want to like it so that I can reset my focus dial if it gets moved, but I have to leave it off. Notice on the product website that only the front one is present (there's a reason for that…). The scope fits nicely into the standard recon mount, but you want the extended mount if you shoot nose to charging handle. Personally, I prefer a little longer length of pull than that, but different strokes ya know?
Overall Impression
I am pleased with the scope overall. For a $250 price point, you are hard pressed to find a scope with this many features in 1-4x
MUCH LESS
1-6x. It's a 1-6x priced at a fraction of the competition, and brings a new reticle to the market that the top companies don't even do. That is innovation. The reticle is definitely going to be copied. Dimitri really knows his stuff. I have yet to see a more intuitive reticle in any riflescope, with the most similar probably being GRSC, which is a FFP. So there's not a lot of scopes out there like it, which is where PA went right! For what it's worth, I think this scope will be a big hit. The new ACSS illuminated reticle, 1-6x power, and solid construction make this a real home run for PA. Don't be steered away by the low price point, it doesn't mean you are getting crap. I think many shooters would be pleased with this optic and it should not be overlooked. Since I have no range time with it yet, I can't testify to whether it keeps zero or not. I see no reason for it not to, but things can happen. If nobody does a range report within the next month, I will attempt to do one, but if I'm beat to the punch I won't bother. I hope this review will help those on the fence to make an educated decision and decide if it's right for them or not. I will edit this with corrections as I see them and welcome any criticism (except about my photography skillz).
The Glorious Bed Sheet Glamour Shots