Discussion Starter
·
#1
·
SOLD
NIB PS 90 with white sight,comes with original 1-30 rounds and 3-50 rounds magazines and Urban E.R.T sling $1625 or best offer+ 25 shipping to your FFL
SOLD Grade A excellent to LN P7 PSP that still in the box and I never fired myself,It's German police trade in and it looks brand new inside out,lots of CLP on it to preserve it ,It comes with 1 magazine also I have 4 extra like new magazines for it $45 each.$ 650 for the gun or best offer+ 35 shipping to your FFl or $800 + 35 shipping for hand gun and extra mags pkg deal.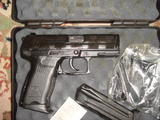 SOLD 9mm H&K P2000 w/ decocker LNIB that I fired about 200 rounds in it and put away.again lots of CLP on it to preserve,come with 2-13 rounds magazines $ 600 or best offer +$35 shipping,also I got extra 3-13 rounds mag. for $40 each or package deal with the gun for $750 shipped to your FFL
Please post a reply or email me if you are intrested,thanks for looking.
USPS money order only .