Discussion Starter
·
#1
·
The model AXR is an AUG based rifle that uses M16 or AR-15 magazines are being currently produced and tested by Tactical Product Design (TPD) in Oregon and will be available sometime in June this year.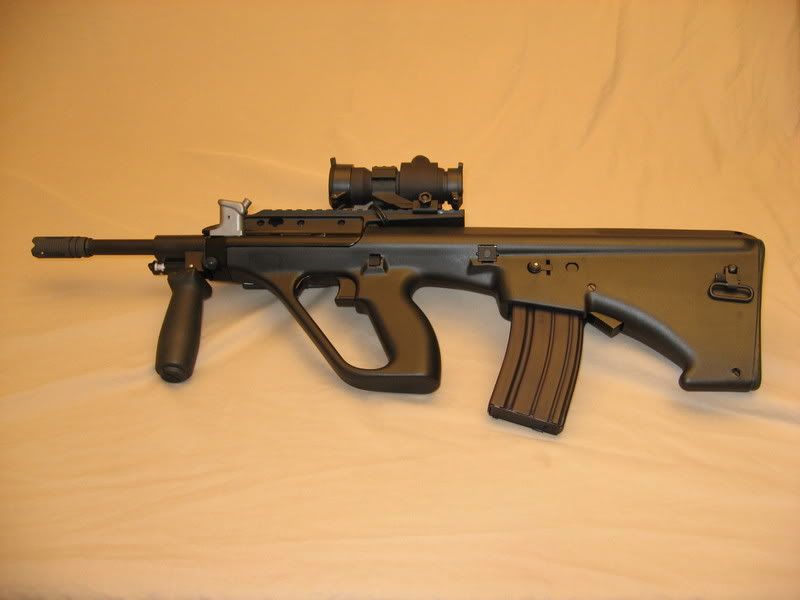 The AXR test rifle by TPD shown in 16" barrel and will also be availabe in 18" and more lengths after the initial production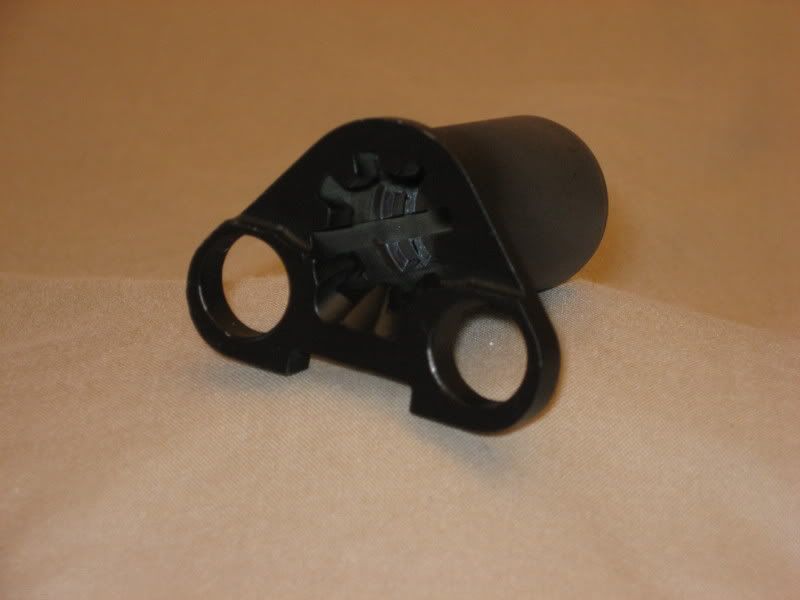 AXR barrel extension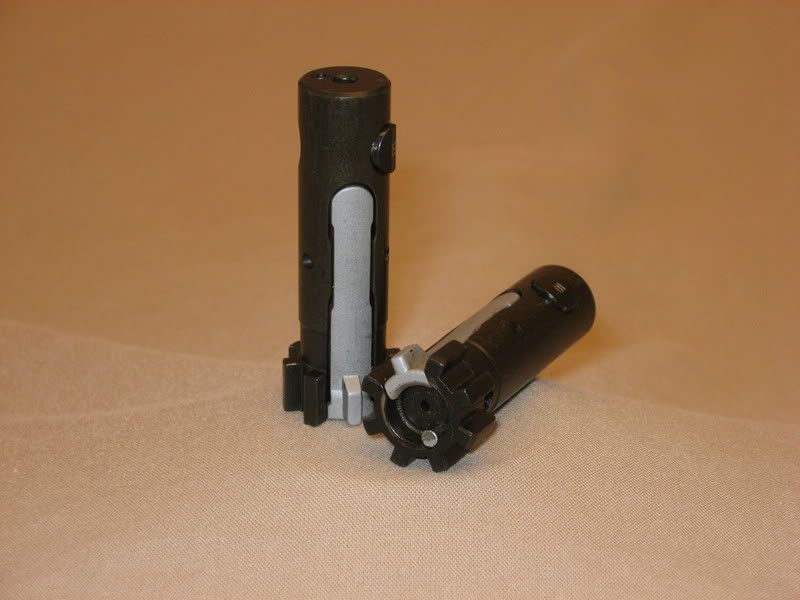 Bolt groups
Gas pistons
Gas adjustment knob subassembly
Barrel assembly with TPD designed vertical grip
Fluted barrel to lessen the weight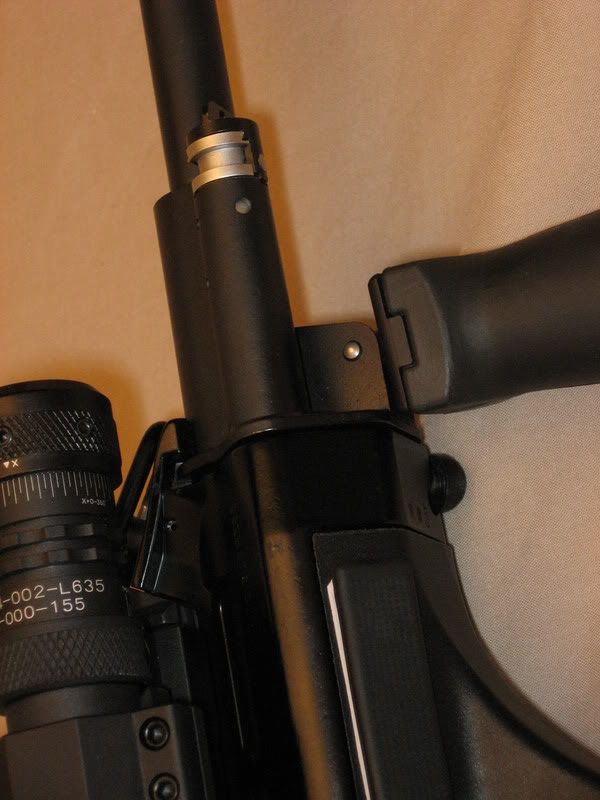 Barrel release button behind the vertical grip
Rear magazine release lever, note there is a second mag release button located at the left side of the mag well
Safety button
CAD drawing of the rail for the original AUG A2 receivers, these will be out with the rail for their reciever which mounts differently.
This mounts from the front rather than from the rear. PAT PEND
Edited to add this pic: Magpul Industries and TPD R&D are working on a new clear AR-15/ M16 NATO PMAG shown here are test articles only, production clear PMAGs will be black smoke and green smoke tint.
Standard solid colors (black, dark earth and O.D. green) Magpul PMAG are available now but in short supply from your Magpul dealers.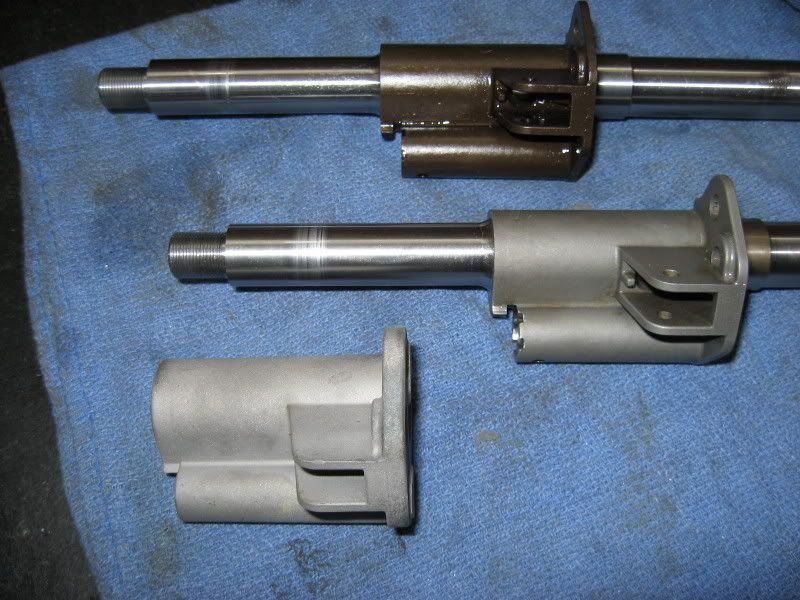 Added 5/06/07 The foreground gas block and barrel is the way TPD does it. Material cell structure is well maintained, and color.
The background barrel is installed in a way that is less desirable per TPD's opinion.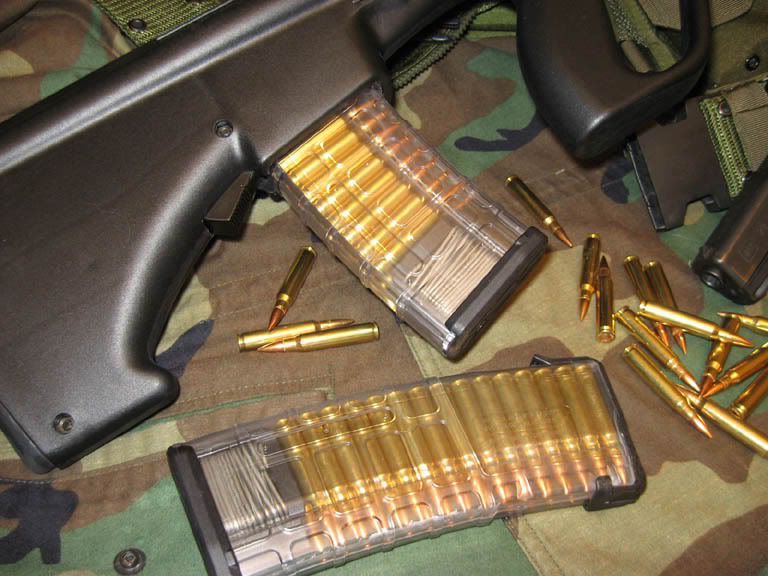 Added 5/06 Here is a picture of the experimental TPD-PMAG. Magpul manufactures these for TPD. It is Magpul's PMAG design, their mold, the new material TPD hoped would work in their mold. They will come in a smoke tint as well. Things look good so far, more testing to do.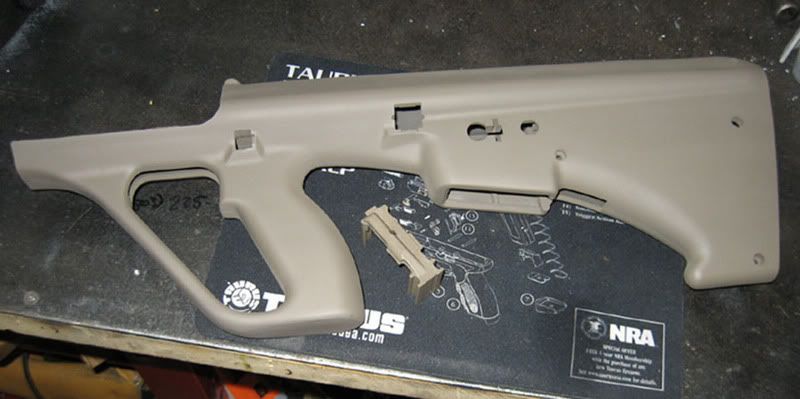 Added 5/21 The latest photo from Kent their US made FDE (Flat Dark Earth) color AXR stock
Added 5/31 - CAD drawing of standard rail PAT PEND
Added 5/31 - CAD dwg another view of std rail PAT PEND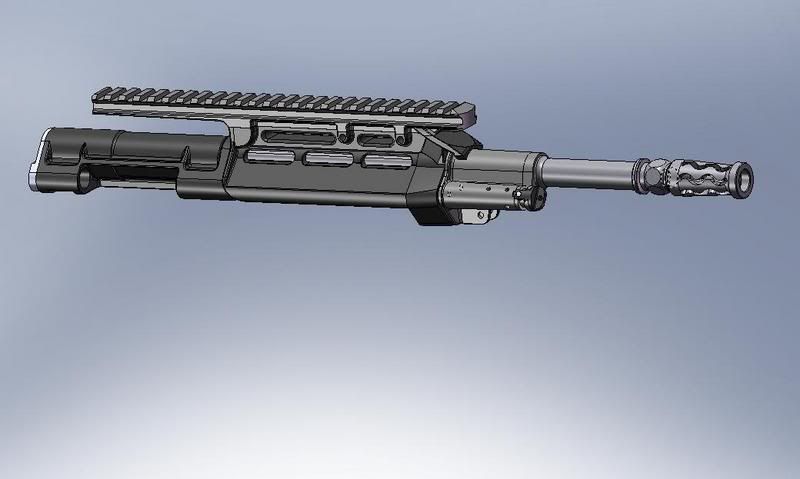 Added 5/31 - CAD dwg of midlength rail PAT PEND
The AXR rifle is different from the other American made AUG style rifle which is the STG-556 by M.S.A.R., the AXR uses the Steyr AUG M16 NATO conversion stocks which uses M16 and AR-15 magazines, it will not take the standard Steyr AUG or the STG-556 magazines.
The AXR rifles will initially use the original Steyr stock conversions but will be following it up with US made stocks with a more improved and stronger materials.
TPD is currently developing clear magazines with Magpul Industries which is the same as the PMAG but will be clear smoke and clear green tint colors.
The estimated selling price will be under $2K and will include a hard case, it will be available in more than three colors which I will update this info at a later date when it get finalized.
Tactical Product Design's website is currently under construction but will be on-line in a very short time from now, I'll post it here when available.
The basic AXR model will be the Liberty series which will not include sights, the user may accessorize as the user sees fit, approx. cost under $2K around mid June this year.
It will also be available with other upgraded model series which will include sights and other accessories, I'll update this thread for more info.
ADDED info from TPD:
Tactical Product Design - TPD
Type of firearm: Bull pup Rifle, semi automatic
Operation: Gas operated rotating bolt, short piston
Caliber: 5.56 (.223) or 6.8mm SPC
Rate of Fire: S/A 150 RPM
Barrel Groups: 16" chrome lined, 18" chrome lined 41L40 chrome moly steel, stainless steel
Overall Length: 26.25", 30.25"
Sights: Any optics with mil picatinny interface, folding open sights standard
Stock: High impact synthetic black or range of color options
Safety: Two position slide lock
Magazine type: TPD-PMAG translucent, NATO spec M16
This is a faithful representation of the original AUG™, with some significant material and design upgrades.
As was standard with the original the barrel is quick removable in a few seconds, fluted option folding fore grip
Rail optics interface is removable and several options available including an extended rail with picatinny rails at the 12, 3, 6, and 9 o'clock positions
Adjustable gas system
Original forward assist configuration
Last round hold open
Secondary magazine release in optimal position for quick magazine changes
Receiver fully machined on cutting edge CNC equipment
Tolerances held to above industry standard, 356 T6 series aluminum
OEM cleaning kits
Fully supported spare parts system and training systems available for the AXR™
You will not find a secondary bolt release on the AXR. This feature was investigated and it was decided to leave it off the AXR™. This feature was not originally available on the AUG™, and we felt that a more faithful rendition of the rifle was the right choice.
The AXR can release the bolt as the original; a quick draw of the non-reciprocating charge handle will release the bolt, as originally designed and integrated.
No other existing firearms parts have been integrated into or onto the AXR™, the design was and still is sound.
What has changed on the AXR™ are the materials used to manufacture the rifle. This is a thirty year old design, yet today it is still unmatched and unrivalled in performance, reliability, and durability.
What T.P.D. has done is simple yet effective:
Crucial springs are now made from Inconel™ a super alloy, rather than music wire or other low grade materials.
Superior finishes are used to coat the metal parts of the AXR™. Both Teflon filled and ceramic filled finishes are used given the performance demand of the part.
The most significant change to the original will be the use of the NATO standard magazines rather than a proprietary magazine configuration. This will give the user both an ample supply of existing magazines and compatibility with other users in the field.
We at Tactical Product Design have taken every step to insure that this faithful recreation will be every bit as durable, reliable, field able, and accurate as the original. In fact we are convinced that we have manufactured a product that in many ways is superior to the original.
Note: All info added are directly from Kent Luttrell of T.P.D. LLC.
Contact e-mail:
[email protected]
TPD USA website:
http://www.tpdusa.com/index.php
The other US made AUG style rifle is the M.S.A.R. model STG-556
Edited fixed photo link
The STG-556 is different from the AXR and Steyr AUG because it uses an AUG style semi transparent magazines but could be used with their STG-556 rifle and the original Steyr AUG, the original Steyr AUG magazines will not work on the STG-556.
The STG-556 also have a forward bolt assist similar to the AR-15 exept it's located at the left side of the stock.
A bolt hold/ release lever at the left side mag well, similar to the AR is also another feature that had been added to the STG-556.
Quick detach 14", 16" and 20" Mil-Spec steel and chrome lined barrels will be available as well as a dedicated one piece suppressor-barrel assembly.
Rail options are Mil-Spec 1913 Picatinny rail system will be available in three lengths, long, medium and short plus three sizes of side rails.
Magazines sizes are 10, 20, 30 and 42 rounds.
Available stock colors are black, tan and O.D. green.
A Pelican hard case and a Microtech knife with matching rifle stock color will be included with the first 1,500 limited edition rifles sometime in (WAS April-May) NOW May-June this year at an estimated price of around $2,100.
After the 1,500 limited edition rifle package are gone the price of just the rifle will be $2,100.
Click on the M.S.A.R. link below and they have a pdf file download for more detailed info.
The first video link of the MSAR STG 556:
http://www.msarinc.com/
Note: Added availability date of the STG-556 rifle.
Added info from TPD 3/28/07
Added TPD contact info 3/30
Added/ Revised STG-556 added pics, magazine info, price, availability date & video link 5/02
Added TPD USA website link 5/02
Added TPD pictures of gas block and experimental clear PMAGs 5/06
Added TPD picture of US made FDE color AXR stock 5/21
Added TPD CAD drawings of rails 5/31
Fixed broken MSAR STG-556 photo link 8/31